Home
Meetings
Contact List
Township Map
Ordinances & Policies
Forms
Fee Schedule
History of Township
Search Site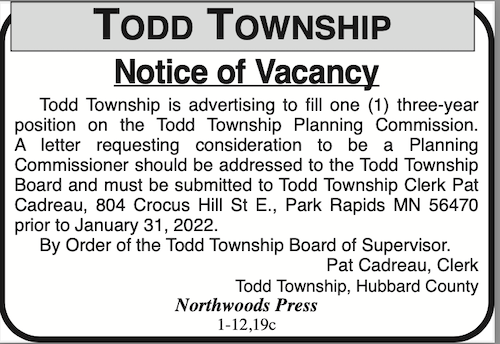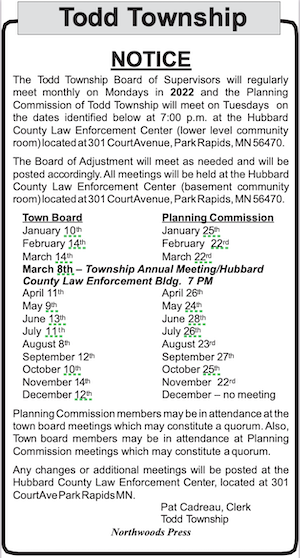 ---
If you are inquiring about permitting requirements in Todd Township, please note that any answers I provide by email or otherwise are related to the requirements of the Township's Land Use Ordinances. Even if a zoning permit is not required, there may be other local, state or federal permits or approvals needed - especially if you are working in or around lakes or rivers or wetlands or along County or State roads. The applicant/landowner is solely responsible to obtain such permits or approvals from relevant agencies. If your project involves work on a sewage treatment system or activities within 1000 feet of a lake or 300 feet of a river, you will need to contact Hubbard County Environmental Services at 218-732-3890.


Ben Oleson, Todd Township Zoning Administrator
---
Free Nitrate Clinic
Held the First Friday of the Month
8:30 am - 4:00 pm
at the SWCD office behind the Park Rapids City Hall
How to collect your sample:
Please bring at least one-half cup of water in a Ziploc-type bag or clean container. In order to get a good sample, allow the water to run five minutes before filling the bag. Homeowners with distillators, reverse osmosis or other nitrate removal systems should take two water samples - one before and one after the treatment process. This will determine if the nitrate removal system is working. Homeowners with just a water softener need to take one sample, either before or after the water passes through the water softener.
Samples should be taken no more than 24 hours before the testing, and they must be refrigerated. Samples should be cool when arriving at the clinic.
Samples are analyzed on the spot and the process takes less than 5 minutes. Results will be given directly to the homeowner.
For more information on the clinic, contact Melissa Koebernick at 218-732-0121.

Planning Commission Meeting
April 26, 2022
7:00 PM

Town Board Meeting
May 9, 2022
7:00 PM

Planning Commission Meeting
May 24, 2022
7:00 PM

Town Board Meeting
June 13, 2022
7:00 PM

Planning Commission Meeting
June 28, 2022
7:00 PM

Town Board Meeting
July 11, 2022
7:00 PM

Planning Commission Meeting
July 26, 2022
7:00 PM

Township Meeting
August 8, 2022
7:00 PM

Planning Commission Meeting
August 23, 2022
7:00 PM